Meet our Choral Director, Terry Wasden

Theresa and her husband Mark, raised their children in Crossfield AB. Originally from Kelowna BC, she worked with the CBC Orchestra and toured with the Okanagan Symphony by the age of 14 years. She played many roles in both Opera and musical theatre performances including Narrator for Joseph and the Amazing Technicolor Dream Coat, as well as took the role of Mable in Gilbert and Sullivan's Pirates of Penzance. Her love of swing music lead her to fronting several swing and Big Bands. As a director and producer, Theresa did the My Child Concerts for the Children's WISH Foundation, and collaborated with several educational teams to do shows in schools. As the music producer for Airdrie Festival of Lights  stage, she encouraged young and new talent to have a go at the Airdrie's Got Talent. She also wrote school songs and went into schools to do a show with all of the students in 4 days. After 13 years as conductor of the Talisman Energy Choir, now Repsol, the choir created a CD. Her own CDs included the Life album and KINDRED, a female vocal swing trio. After teaching singing for 30 years and performing for more than that, it's time to enjoy the Olds Community Chorus. This will begin September 7th at the meet and greet and Kick-off for the Chorus. We hope you will join us.
Meet our Accompanist, Rowena Hoeve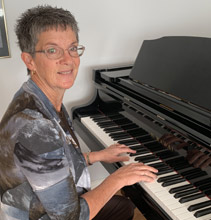 Rowena Hoeve is a piano teacher from Olds. She began piano lessons at an early age and quickly demonstrated an affinity for the instrument. Rowena competed both the ARCT Performer's and ARCT Teacher's Diplomas thru the Royal Conservatory of Music and has been teaching piano for 45 years. Throughout her teaching career, her students have consistently demonstrated a high standard of excellence, receiving many awards both locally and provincially for festival and exam results.
Although primarily a piano teacher, Rowena has been involved in singing and choirs for most of her life including conducting church choirs. She also has extensive experience as an accompanist for choirs, including the Red Deer College Concert Choir, various vocalists, ensembles, instrumentalists, Alberta Ballet dance classes as well as playing piano and organ for church since the age of 14.
Rowena is delighted to be returning as an accompanist for the Olds Community Chorus and looks forward to sharing the joy of music with the community.