Meet our Choral Director, Terry Wasden

Theresa and her husband Mark raised their children in Crossfield AB. Originally from Kelowna British Columbia, she worked with the CBC Orchestra and toured with the Okanagan Symphony by the age of 14 years. She played many roles in both opera and musical theatre performances, including Narrator for Joseph and the Amazing Technicolor Dream Coat, as well as took the role of Mable in Gilbert and Sullivan's Pirates of Penzance. Her love of swing music led her to fronting several swing and big bands. As a director and producer, Theresa did the My Child Concerts for the Children's WISH Foundation, and collaborated with several educational teams to do shows in schools. As the music producer for Airdrie Festival of Lights stage, she encouraged young and new talent to have a go at the Airdrie's Got Talent. She also wrote school songs and went into schools to do a show with all of the students in four days. After thirteen years as conductor of the Talisman Energy Choir (now Repsol), the choir created a CD. Her own CDs included the Life album and KINDRED, a female vocal swing trio. After teaching singing for 30 years and performing for more than that, it was time to enjoy the Olds Community Chorus. She is excited about bringing the Messiah to Mountain View County in the fall of 2023.
Meet our Accompanist, Kathleen van Mourik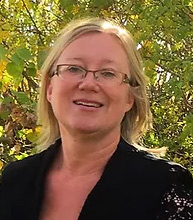 Kathleen van Mourik, a native of Alberta, is in high demand as a vocal coach and collaborative pianist, and is known for her inter-disciplinary collaborations with artists, actors and dance. Ms. van Mourik completed a Bachelor of Music degree at the University of Calgary before moving to the Netherlands, where she studied lied and chamber music at the Hilversum Conservatory under Hans Broekman and received the Uitvoerend Musicus degree. Upon returning to Canada, she completed a master of music degree in piano performance with Vladimir Levtov at the University of Calgary. Other important teachers include the late Greta Kraus and Rudolf Jansen. She has also studied with Martin Isepp at the Banff Centre and completed a residency there with her husband, pianist Charles Foreman. As a two-piano team, they have commissioned works by various composers, and have completed a CD of French two-piano music, released on the Arktos label in May 2005. Kathleen recently completed a CD of Russian songs with soprano Michèle Cusson. …She maintains an active performing schedule, and has appeared across Canada, as well as in the United States, Belgium and the Netherlands. Her work is regularly broadcast on national and regional CBC Radio, and she has also appeared on radio and television in the Netherlands.
(Source: Mountain View Festival)